Ready to level up?
All you need to master meta-production.
WORKFLOW is our biggest project yet.
What's the one thing that makes you give up or not music?
We answered this question and it's having a flow.
This bundle will guide you through all the aspects to create room for creativity, from how your mind tricks to approaches to develop and get to finish songs better and faster.
How? With the book, a video course, the tips and all our templates.
Remember, It's not about what you do. It's all about how you do it.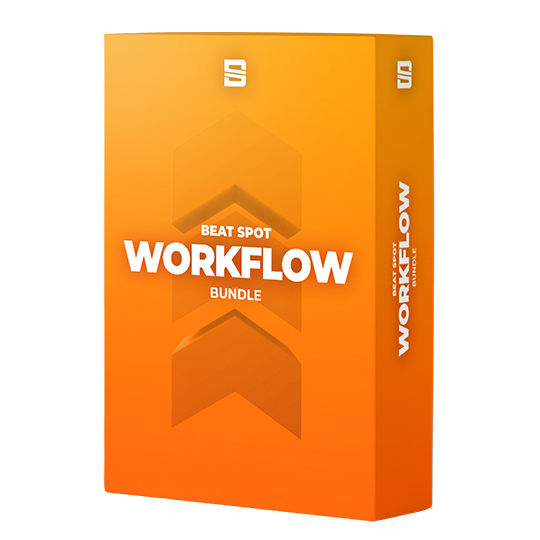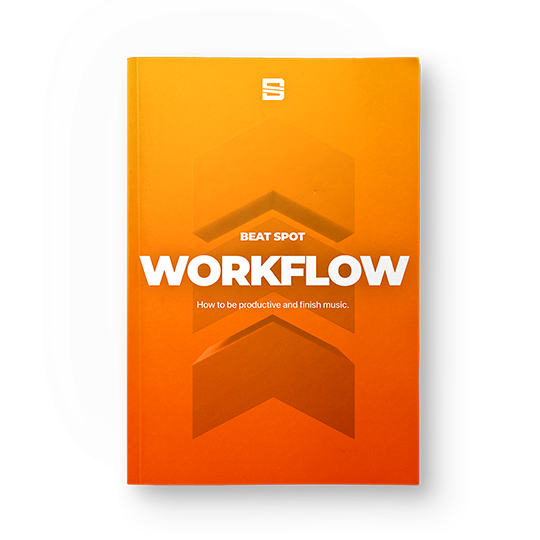 Workflow
A guide made with years of experience
We thought it was time to put on virtual paper what we learned through the years.
In its 11 chapters, you will learn how to handle production work from all the perspectives: creative, psychological, organization, and practical.
Learn how to optimize your studio…
...Or if you don't have one, your virtual studio.
Get a taste of different methods of work and create your own creative space.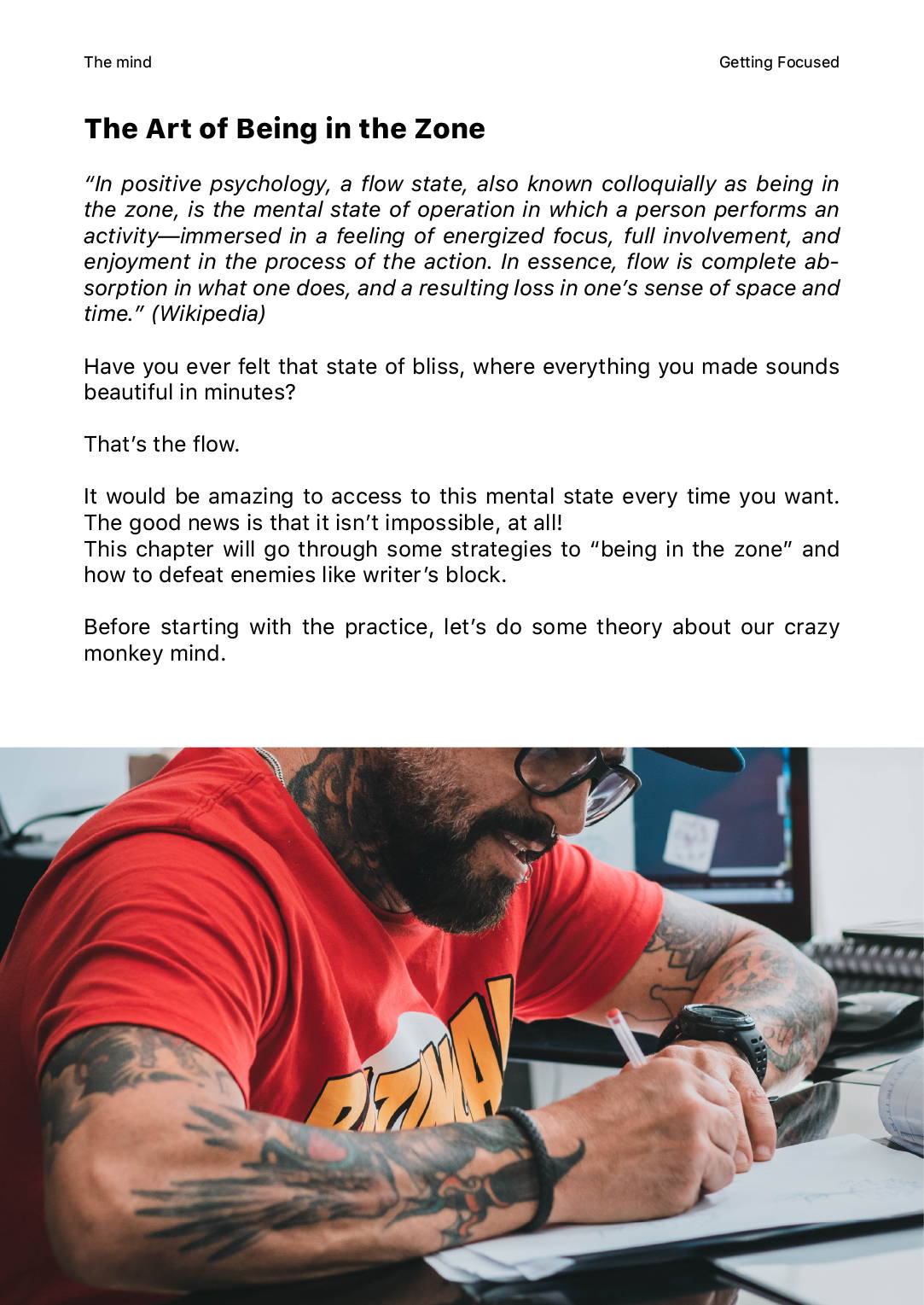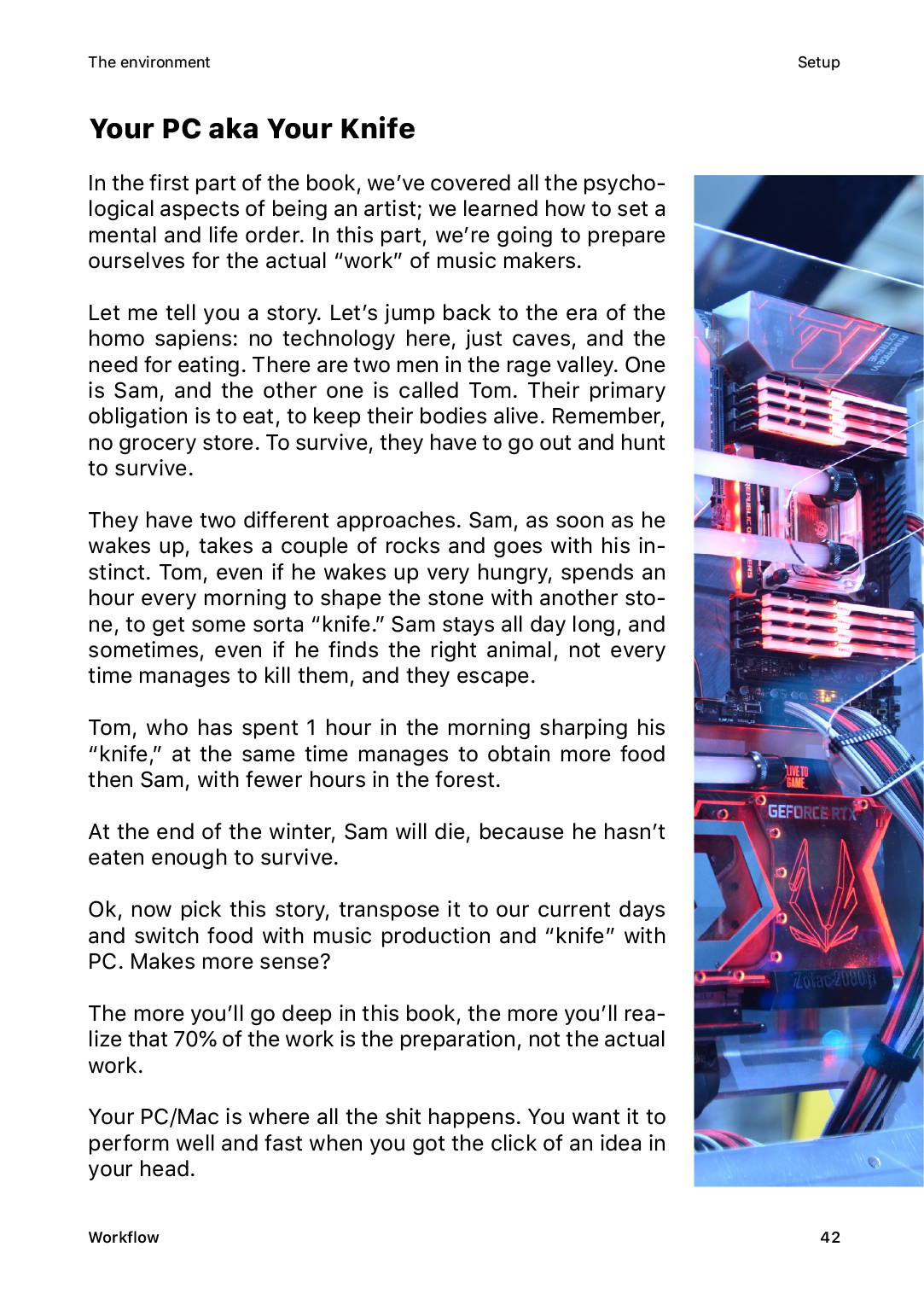 The Course
The things to do. Step by step.
Sometimes a book isn't enough.
We thought that some topics needed some video demonstrations, and we did it.
10 lessons for a total of nearly 2 hours to go more in-depth.
Learn how to keep your tools tidy and organized, or how to use a project management tool.
See how you can arrange a song fast.
Watch it whenever you want and wherever you are. Forever.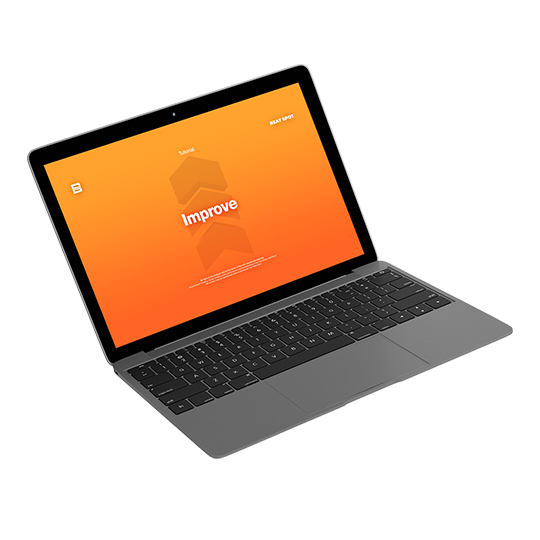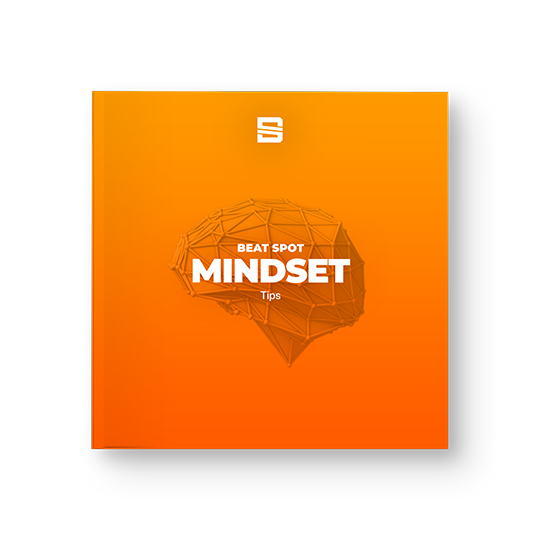 Mindset
Tips at your fingertips.
You probably know us for our tips on IG.
So we thought, "Why would you leave all of our Mindset tips behind?"
You will have access to our collection of tips, which we cared about making them easily browsable.
140 pages of goodness. For free.
Mindset tips can't be bought individually*
Feedback Ready Checklist
Don't miss a valuable feedback anymore.
Did you ever send a track out just because you were too excited to share it with the world?
But is your production done?
After you sent it you felt the need of changes?
This checklist will help you to find out if it's done.
All you need is to answer the questions.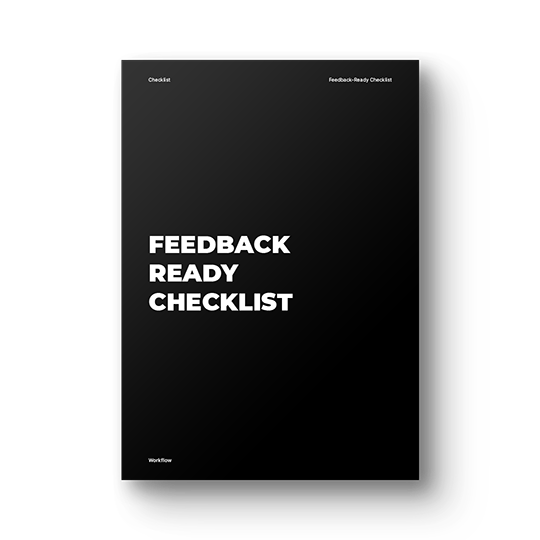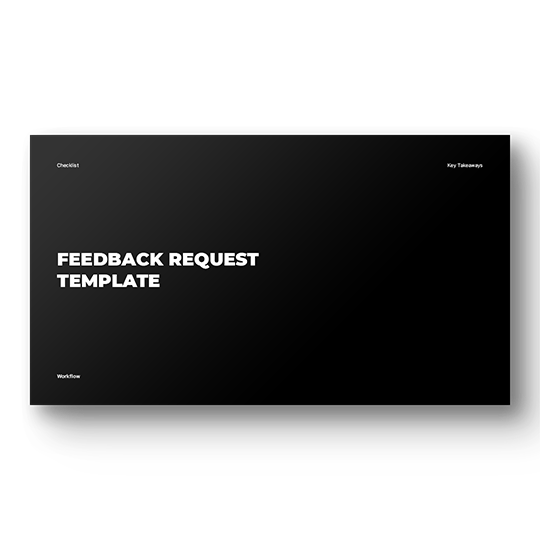 Feedback Request Template
Ask for feedback effectively.
Are you not getting answers? Try this.
We get many feedback requests, most of them don't make you want to listen to music, even if it is excellent.
Know how to write correctly to labels, A&R, and other artists.
Some details can actually make a huge difference when it comes to asking for time to listen to your music.
Copy this structure and customize the template for the person you're reaching out to.
Music Production Journal
Write down your progress.
Rome wasn't built in a day. You don't need to be newagey to do journaling.
Whether you like or not journaling, this template will help you write down your progress and think about the positive sides of making music. Track down all the small achievements and the things you want to change.
This template is designed especially for music makers and creatives.
You can print it, use it digitally or keep it as a guideline to emulate on other journaling tools. It's up to you.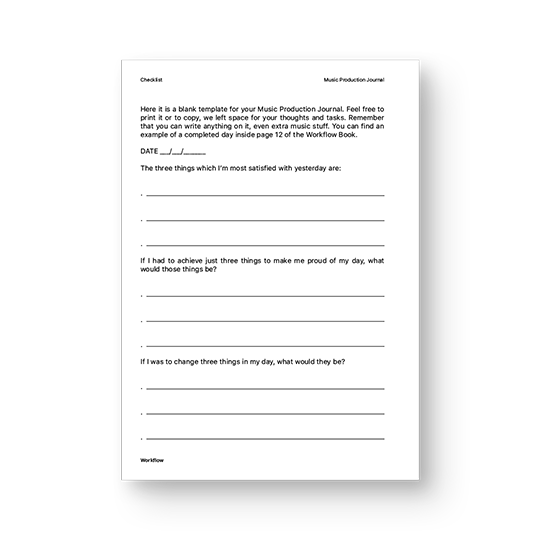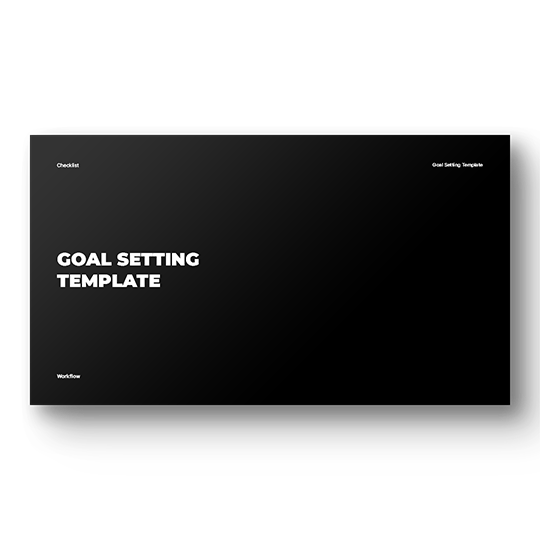 Goal Setting Template
Give yourself meaningful deadlines.
Deadlines are your best friend. How much could you spend on writing an album?
You could spend your entire life.
This template will help you define what you want to do and when.
Be in control of your musical duties and feel the positive pressure of short, medium, and long-term deadlines.
Free Time Calculator
Recap your everyday life.
Made with the goal of putting you in control of your time, this is a simple sheet that you can use with a few clicks. Know how you spend time and how to manage your activities.
You don't need Microsoft Excel; all you need is a Google Account.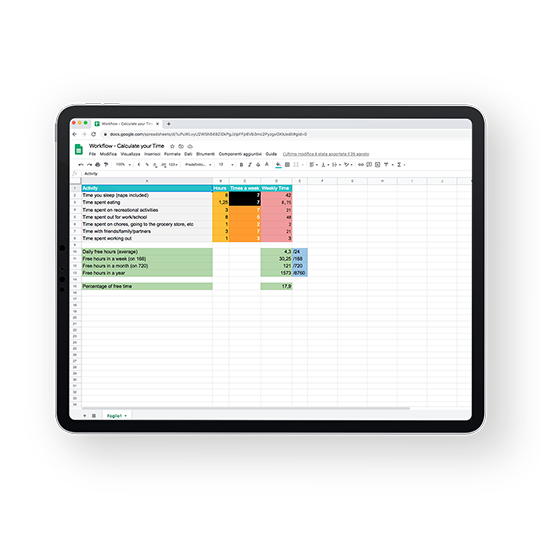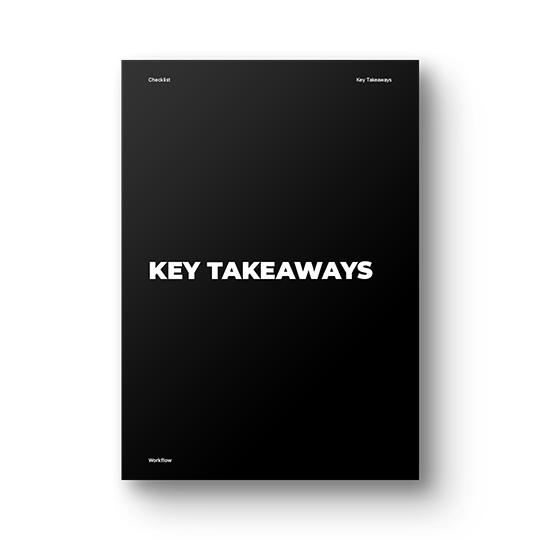 Key Takeaways
The Workflow book. Summed up.
Taking notes is excellent for learning.
But it's even greater to have a summary of the book already at your disposal.
Keep it with you everywhere and use these handy takeaways to stay on track whenever you feel you're slacking off.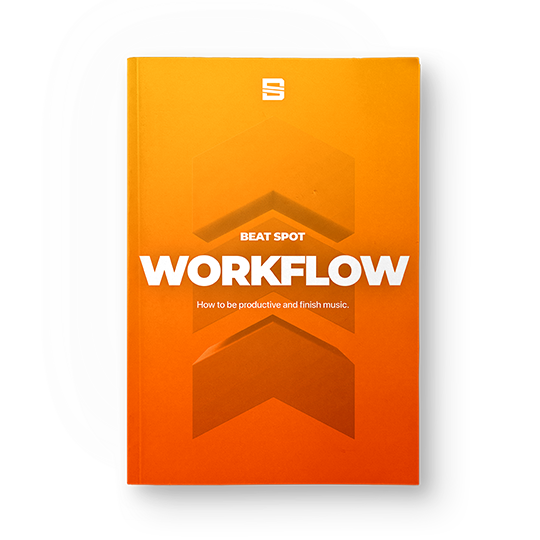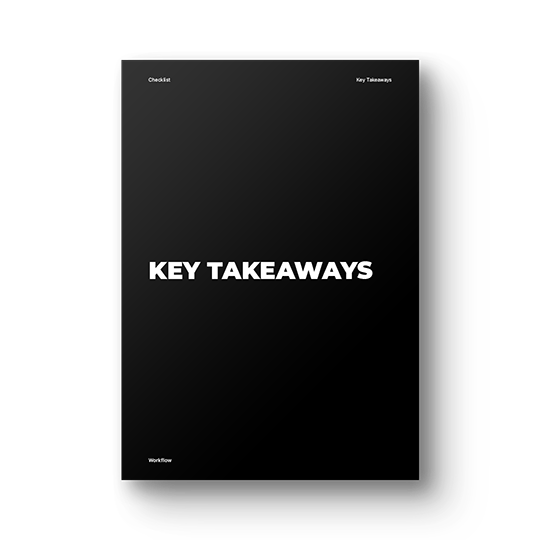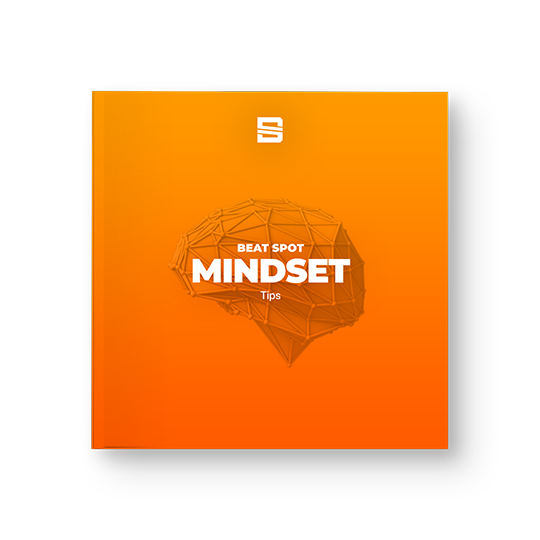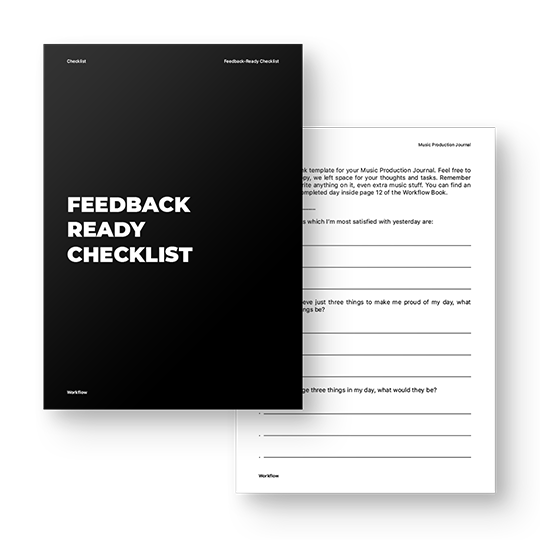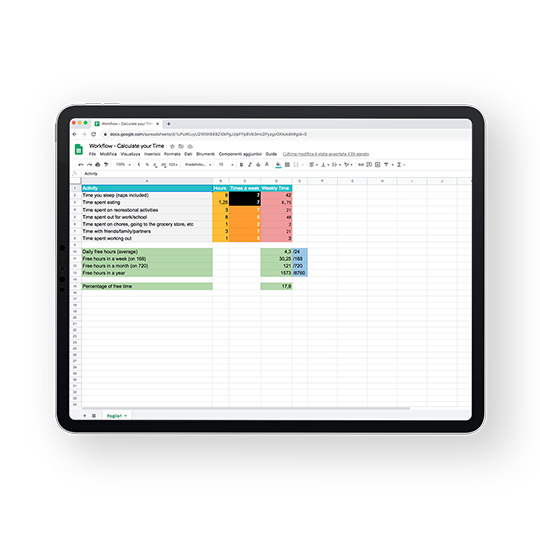 ---
Work smarter, not harder
Acquire the principles we've developed over 10 years of experience, become aware of what you can improve and create a tailored asset of habits.
Produce consistently
Create a system that entirely service your creative juice whenever it kicks in. Don't waste a session anymore and become more confident with your creative process.
Finish music faster
Start taking decisions and commit with them.
Develop self-critique to stay objective.
Feel confident with your craft and make more of it.
---
Whether you're a songwriter, producer, mixing or mastering engineer,
you will acquire a mindset that allows you to get things done.
---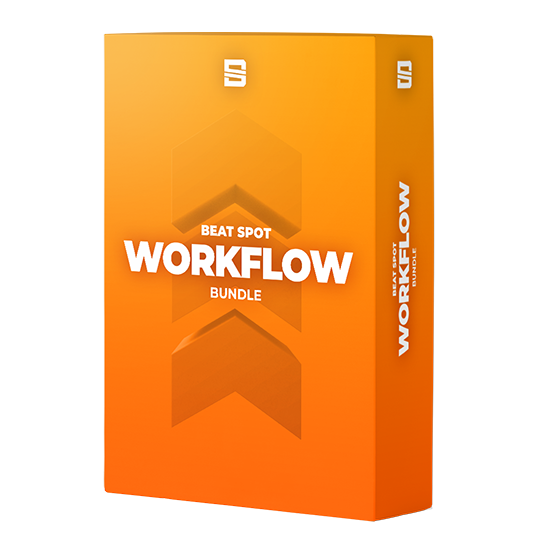 ---
Instant Delivery
All the downloadable content is available right after the check out and sent via mail. The access to the streamable course is delivered via mail within a few minutes.
Secure Payments
We accept payment by credit card (VISA / MasterCard / AMERICAN EXPRESS etc.), by PayPal and Apple Pay.
Payments are secured using SSL Certificates and client-side encryption.
Accessible to Everyone
You don't need any specific OS or particular software to open the PDFs, watch the online course, or use the Google Sheet. You can even use your smartphone.
---
---
The concepts written in the pdf are mind-opening. Lots of insight that helps producers getting their stuff sorted out.
Francesco (via Review Form)
With the 50€ that I paid for this course, I managed to streamline my music production process and it's only been one week since I started implementing the tips.
Glad to see people covering such a niche topic! You are the best.
When does the course start and finish?
The course starts as you check out and never ends! You decide when you start and when you finish.
How long do I have access to the course?
After enrolling, you have unlimited access to this course and all the downloadable content for as long as you like - across any and all devices you own.
Do I need to own specific Software or Plugins?
You don't needed anything else than a device, whether desktop, tablet or smartphone, to attend the lessons and open the PDFs.
Do I need to own a specific DAW?
You don't needed a specific DAW.
We have a couple videos on how to make a Production and Mixing/Mastering template in Ableton, but the concepts can be easily applied to other DAWs as well.
My currency isn't displayed.
We can't manage to show all currencies, but here's a Converter by Google that you can use to check how much it costs in your currency. Match it with the price in Euros.
Can I purchase one or more files instead of the whole bundle?
No. We've conceived this bundle as a whole product where every piece makes the puzzle complete.
Can I buy a copy for a friend?
What if I'm unhappy with the course?
We stand behind our products and your satisfaction with them is important to us. You can contact us within 48 hours. If you don't contact us within 48 hours by since your purchase, unfortunately, we can't offer you a refund or exchange.
If the refund request is done in time, we allow refunds for streamable content and for downloadable files only if any download hasn't been tracked yet.
To complete your return, we require:
- Receipt or proof of purchase;
- First and last names used at the checkout;
- Email address used at the checkout.
Once you've completed the checkout process, you will have a button appearing that redirects to a folder with all the files. Also, you will receive an email with the receipt and a link to all the downloadable files.
After a few minutes, you will receive an email with the credentials to access the streamable course.
Can I create an account on your website?
Sure! If it's the first time you purchase from us, you will receive an onboarding email with all the instructions to create an account on beatspot.pro and access all the purchases you've made on our store.
How secure is the online shop? Will my data be protected?
Your data will be handled confidentially via Shopify Payments services and encrypted with SSL (Secure-Socket-Layer) secure server software. The encrypted information of your order, your name, address, credit card or bank details cannot be read by any third party. Credit card payments will also be verified through the 3D secure procedure.
What if I have further questions?
We are available to help you with any questions, get in touch via: beatspot.inbox@gmail.com